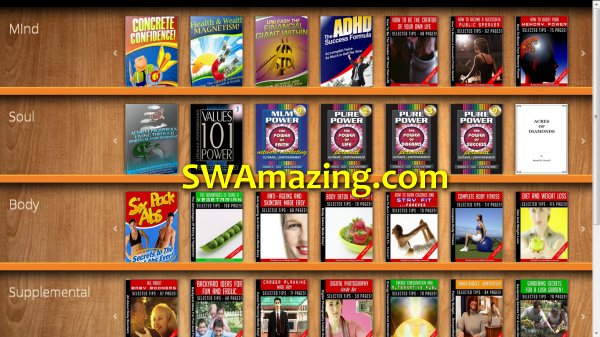 Here's the updated review of the Supreme Wealth Alliance Ultimate or SWA Ultimate program, in light of the recent changes in the new website.
SWA Ultimate has increased the security level by assigning SWA PIN Codes to SWA members.
This means that before members can request for the payout of earned commissions, they'll need to input a 6-digit PIN code to help confirm that they are the true owner of that account.
It's a balance between security and convenience. Anyway, if people forget their PIN codes, they can correctly answer three security questions. Alternatively, they can always file a SWA Customer Support Ticket and request for assistance from the SWA Admin.
SWA Ultimate Library now sports a more attractive look-and-feel.
From what used to be a text listing of ebooks plus clickable download links, SWA Ultimate now shows a bookshelf which looks like this: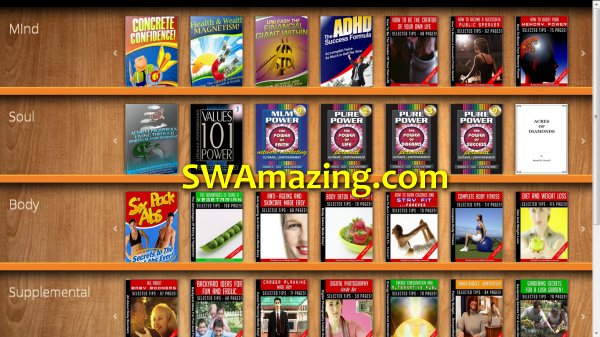 You'll need to have Flash installed in your browser, and people with mobile devices will discover that once you open the PDF ebooks, you cannot pinch/zoom to have a closer look.
There are basically set zoom levels, and the reading experience isn't as convenient as it was with the previous version of the SWA Library.
We hope the SWA IT Team will make adjustments, such as enabling the Download button of these ebooks (which are hosted in FlipDocs).
NOTE: The last time we looked, the new SWA Ultimate library has 257 ebooks ready in this version 2.0 (the previous version had 2,145 links, 188 of which were broken links).
It's a good thing we were able to download the ebooks that we are interested in before (and made back-up copies in external hard disks), so that even while the SWA IT group is in the process of migrating the ebook collection to the new format, we can continue enjoying most of the ebooks that we purchased.
SWA Ultimate needs to be more mobile-friendly.
If you're using a cellphone, you'll notice that certain parts of the screen are not that accessible. The old design was easier to navigate using CPs.
Hopefully, the SWA IT Team will use responsive design given the growing number of people who surf the web using smartphones.
SWA Genealogy or Matrix Reports appear much faster now.
In the previous design, it would take around 12 seconds before the screen would refresh after we click on a slot in the displayed matrix.
With version 2.0, it takes less than a second. Kudos to the SWA IT design team! 🙂
SWA Ultimate v2.0 is for you if:
You like reading ebooks online.
You have access to a browser that has Flash or which works with FlipDocs.
You have an upline or teammate that has downloaded the PDFs that you're interested in.
You like connecting with people who can teach you Online Marketing.
Kung gusto mo ng karagdagang impormasyon ukol sa SWA, please go to:
https://www.viloria.net/swa-pinoy
Kind regards,
Manny Viloria
Your Fellow SWA Customer