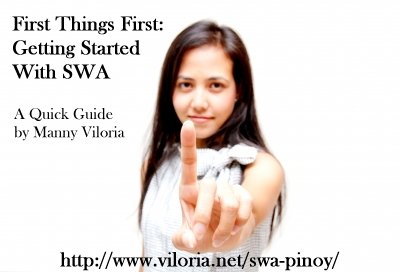 So you've joined the Supreme Wealth Alliance Ultimate program and you're wondering: "What's Next?" Here are quick ideas to put you on the right track…
First of all, download the Getting Started With SWA Ultimate Guide at:
http://supremewealthalliance.s3.amazonaws.com/getting-started-swa-ultimate-manny-viloria.pdf
(opens in another browser window)
Here's the partner audio file (Tagalog / Taglish):
[dewplayer: http://supremewealthalliance.s3.amazonaws.com/getting-started-swa-ultimate-manny-viloria.mp3]
» Download MP3 Audio File (Getting Started With SWA)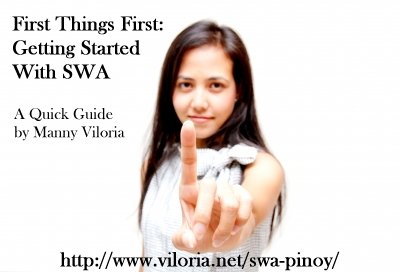 Image: FreeDigitalPhotos.net
First Important Step – Update your SWA Account Profile details, so that the SWA Admin will know how to send you your SWA commissions after you make your Request for Payout.
You may receive your SWA Commissions in various ways:
Via Western Union or LBC Express (transfer charges will be deducted from your commission)
Via Smartmoney or Globe GCash
Recommended: Direct deposit to your BPI, BDO, Unionbank or Metrobank Peso account in the Philippines
If you're based outside the Philippines, Western Union is the way to go.
Please give the SWA Admin up to 5 business days (excludes weekends) to process your Request for Payout and either send you the money or deposit the funds in your bank account.
Remember: Get your commission payout details set-up properly before you share your SWA experience with others.
Second Important Step – Read the ebooks. You don't have to read ALL the ebooks. Inside the PDF guide, I share with you which ebook to start with. 🙂
Third Important Step – Get training. The PDF reveals where you can get training online.
The 5-page "Getting Started with SWA Ultimate" PDF guide will help place you on the right track as you acquire additional skills. That's the way to go if you truly want to earn an extra income with the help of the web.
May this easy-to-read guide help more Filipinos make money online and have more time with their family!
» About the Supreme Wealth Alliance Ultimate Program 🙂
(Find out what THOUSANDS of Pinoys are getting excited about!)