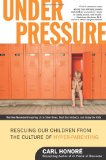 Are your children suffering from hyper-parenting? Here's how you can tell…
Well, you can't. At least not on your own.
You can't, because in your eyes, your child is perfect. Fantastic grades, officer of various school clubs or organizations, jam-packed schedule of tutorials and study sessions after school, summers filled with "academic" activities, and other signs of "excellence."
Here's what you don't see: anxiety, depression, eating disorders, self-mutilation. Stomach aches, headaches, fatigue.
Are you a well-meaning parent who's a "bit" competitive? Do you buy the latest learning gadgets to help boost the intelligence of your child? Do you hire tutors left and right? Do you speak to your child about which college courses will help them land high-paying jobs?
Do you love micromanaging your child, because… you know what's best for your child, right?
No wonder a lot of companies nowadays are complaining about new-hires who are unable to work in teams, are less independent, seem unable to want to learn new things on their own, and don't have their own passionate voice.
Yes, some people are hyper-parented children.
Queena Lee wrote about children who need saving from hyper-parenting, and she mentioned the book Under Pressure: Rescuing Our Children From the Culture of Hyper-Parenting (by Carl Honore).
I'll go look for a copy at PowerBooks, or perhaps even order from Amazon (the Kindle version is not available for people in the Asia Pacific Region, though).
In the meantime, let's give our children a break.

Under Pressure (Carl Honore) – look inside for details