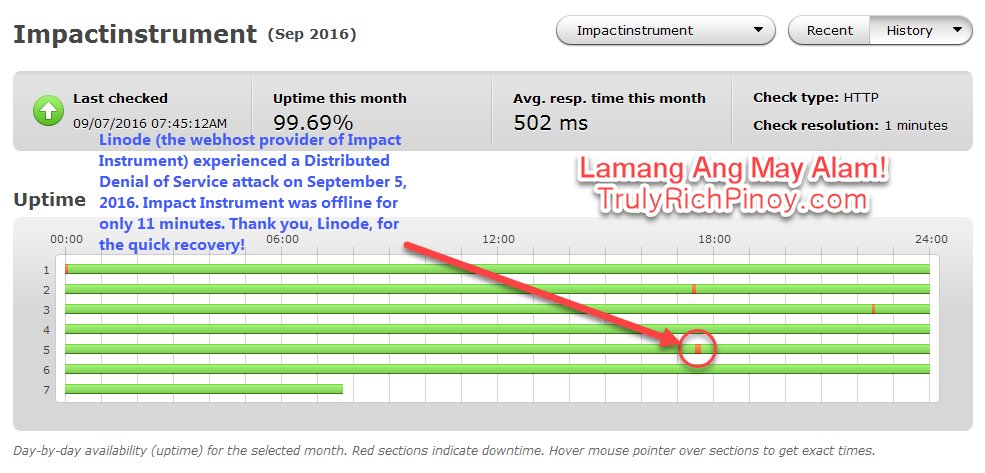 The Impact Instrument Blog System is one of the core products of The Unity Network of Eduard Reformina and Mau Magallanes, and one key metric that entrepreneurs and digital marketers monitor is the site uptime.
We also monitor Security News, particularly those related to Linode (webhost provider of Impact Instrument and Rocket Pages websites).
Linode was subjected to a Distributed Denial of Service attack last September 5, 2016. Here's what happened to the Impact Instrument blog…
Impact Instrument was offline for only 11 minutes last September 5, 2016. Rocket Pages remained online.
Thank you, Linode, for successfully recovering quickly.
Linode is a popular provider of VPS webhosting services, so it's no surprise that some groups will launch DDoS attacks on them. Fortunately, Linode has DDoS defenses in place, so that in case of attack, they have the means to get your site back online as quickly as possible.
To the members of Team #AKMB, congratulations for joining Team AKMB before the last week of September 2016, because for only P2,999 you will get a chance to test-drive Impact Instrument and Rocket Pages for FREE for 60 days. Plus, you have lifetime access to the Online Prosperity Training videos that discuss Facebook Marketing, among other useful online entrepreneur topics.
As Team #AKMB Ignition Marketing customers who joined before the September 2016 launch of The Unity Network, you also qualify as a Lifetime Affiliate for core products of The Unity Network (TUN). This means you also qualify for Direct Referral Bonuses, at no additional cost.
After the September 2016 launch, non-Ignition Marketing members who want to qualify as TUN affiliates will need to get the P12,990 annual package of TUN.
TIP: Become an Ignition Marketing Member at the insanely affordable P2,999 (one-time) rate before the September 2016 launch of The Unity Network, or lose out on the one-time rate offer.
Kind regards,
Manny M. Viloria
Tara! Mag Stock Market Na Tayo – TrulyRichPinoy.com
P.S. Use tools and services that online marketers go for, such as reliable webhosting. Remember to not put all your eggs in one basket, so do consider signing up with more than one webhost provider.