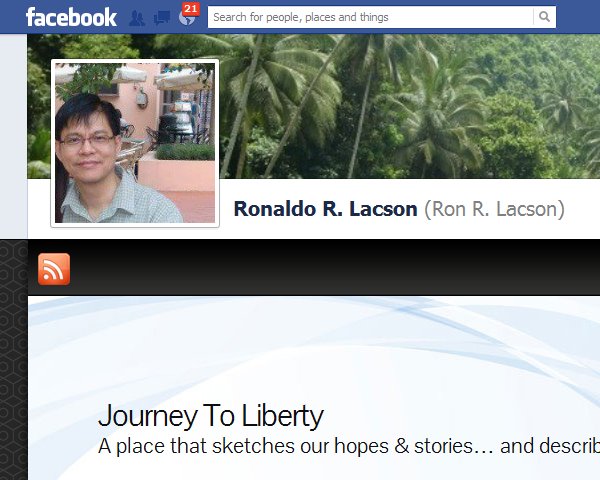 Ronaldo Lacson is a Filipino engineer now working and living in Hong Kong, who also blogs and shares his stories about their journey towards financial freedom…
Ron's blog, Journey to Liberty, is located at http://ronrlacson.com
How do you uplift your family and escape the clutches of poverty? By having your own business.
One of the most important things you can start doing is checking your mindset, because the things you hold in your mind have a way of shaping the environment you are in.
In Rich Sad, Poor Glad, Ron Lacson reveals the changes we can make with our thoughts along the road towards True happiness.
Another important concept to understand as you build your financial literacy is the difference between Assets and Liabilities.
I was surprised to read in that blog post that Ron took up an Accounting elective… in high school! Most of us learn accounting for the first time usually in our sophomore year in college.
So, how did this engineer who also understands accounting learn to write stories? I'm guessing it's from his exposure to Pinoy Komiks.
Komiks is where I learned that failures are temporary (Itutuloy).

Komiks is where I learned that reaching our goal is always sweet when you work hard for it (Wakas).
Sabi ko na nga ba may kahihinatnan ang pagbasa na komiks. 🙂
If you want to blog better and improve your writing… READ. Read all that you enjoy, whether these are komiks, other blog posts, or even ebooks inside the SWA Ultimate online library.
Read and learn. Then write and teach. And later on, share and earn.
For you need to Invest in Yourself First, Before Others Will Invest In You.
And if you pause and wonder if it truly is possible to make money online by blogging, you need to realize that Words are Powerful.
In that blog post, Ron talks about the might of words. About how words, when used properly, can empower others and pave the path towards financial freedom, or the fulfillment of your dreams.
And when you help others, somehow it also flows back to you (please see Ron's Come To You, Come To Me). As what Og Mandino shared in one of his books:
Love is never lost. If not reciprocated, it will flow back and soften and purify the heart.
— Washington Irving
When you share things such as your blog posts online, your effort is not wasted. Your time spent writing is never lost.
Someone somewhere will find your stories online. They will find what you teach about Active and Passive Income.
And some of them will appreciate you for what you have published on the web, because you have somehow touched their lives even if they live thousands of miles away.
Along this journey to liberty, with each step we take, we find new friends such as Ron Lacson.
And that makes the destination worth it.