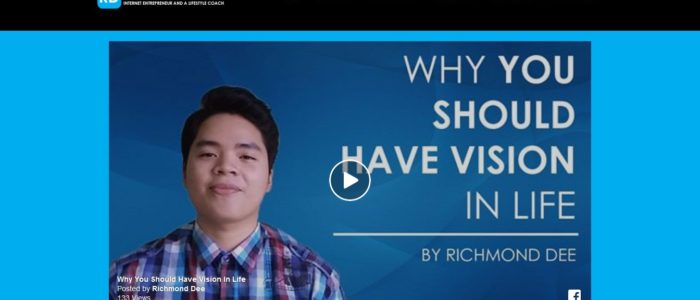 Richmond Dee is a fellow community member of the Ignition Marketing Training community, and is an aspiring Pinoy blogger, Internet Entrepreneur, and Lifestyle Coach. Let's have a quick look at his website…
Here are titles of some of the recent blog posts that Richmond Dee has published:
The 6 Components Of Personality That Can Help You Boost Your Success
Assets vs. Liabilities – The Truth About Assets And Liabilities That You Should Know
How To Predict Your Future Lifestyle Using This Simple Calculation Technique And Prevent Getting Broke
3 Steps To Develop Your Presence And Become More Focused
5 Rules For Online Marketing Success
SEO Question
Richmond asked us: Why are other webpages outranking my blog for the phrase Richmond Dee?
We searched Google for his name, and saw a bunch of authority pages from websites such as Facebook (8.2 billion pages indexed in Google) and a real estate website in Australia (15 million pages)
That's why content-thin webpages such as the semi-private Facebook profile page for someone else who shares Richmond's name easily outranks his blog.
SEO Tips: Personal Branding
Here are suggestions on how he can improve his blog's visibility from the point of view of people who are searching for his Richmond Dee:
1. Publish more useful articles in his blog, and ensure that his name accounts for no more than 1% of the total text found in each webpage.
2. Publish in other places such as Twitter, YouTube, Slideshare, Blogger, and yes… Facebook.
3. Publish articles in PDF format, and insert his name in the PDF information fields (found in the Document Properties).
When you publish your articles (with your byline) in different formats (e.g., text in blog, YouTube text description, FB Fan page, Slideshare PDF, PDF uploaded to your own WordPress blog content folder), you give the search engines a better opportunity to find, index, and rank those webpages.
May this SEO tip help you gain visibility in the search engines, as you build your personal brand online.
Check out Richmond's site today at http://www.richmonddee.com
Next Action Step: Build Your Big Business – Join Team #AKMB
Kind regards,
Manny M. Viloria