I'm trying out the Sandugo Twister rubber sandals, which the people at Toby's say is an upgrade of the Storm version. The trekking or wet hiking sandals have generous aerovents which not only allow the air to easily pass through, but make drying your sandals quick and painless if you find yourself sloshing through water.
It retails for about P995 a pair, while the Storm version costs around P775. Why the difference? Well, the Twister version has a rubberized sole, and it also feels softer than the Storm version. They look more or less the same, except that the Twister rubber sandals (actually, it looks more like closed shoes than sandals) has a two-tone sole.
If you find yourself hiking through creeks, or even if you prefer to walk along the beach, get into boats in preparation for your Underground River tour in Palawan, spelunking in a cave, or even if you will just lazily stroll around the swimming pool, you might like to try the Sandugo Twister.
The Sandugo Twister shoes have a moulded EVA sole, and are lightweight. Perfect for packing in your bags if you prefer to go to the airport using your regular shoes. You can also wear these all throughout your trip, but they can feel a bit warm (unless you're walking and feeling the breeze pass through those air vents). Personally, I'd rather wear them only when I know I'll be going through some ankle-deep water.
Sandugo has a website at http://www.sandugo.ph but I can't seem to find the Twister shoes there. Most of the product shots are those of the sandals (with straps).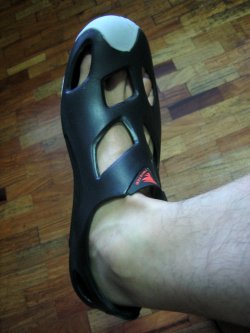 After wearing these sandals for about 15 minutes, I feel my feet begin to sweat. It's not comfortable if you're stationary, so it's better if you move around, or at least go through some water. I haven't tested what it feels like after you go out under the sun, or how easy it is to dislodge the pebbles which may find their way into that enclosed space thanks to the aero vents.
There are tiny holes in the sole, but it does not look like they're meant to serve as some kind of additional ventilation. There's a slight, solvent-like odor, but perhaps that has something to do with the age of these shoes. We'll see if the odor persists after a few more days.
The Twister shoes (or enclosed sandals?) come in these different color combinations: Black/Black, Black/Grey, Black/Vermillion. It looks like the color red, but isn't quite red.
The shoe has a single velcro strap, and we'll see how well that holds up when you're making your way through boulders and rocky trails.
Hmmm… maybe this is best suited for beaches and non-extreme areas only. Anyway, the nice thing about the Sandugo Twister is the protection it gives your toes (compared with the open design of the usual sandals).
Anyway, it's time you go out and try these rubber water shoes. Well, I don't know if that's that right term, but I've seen those soft aqua shoes that kids wear, and I've always wanted to wear something similar without looking like a clown. 🙂 So let's see how these Twister shoes perform in the coming days…