BatJay launches his Batang Kaning Lamig book at Fully Booked (in The Fort) as part of the megalaunch of the Fox Literary House.
I heard this deep, booming voice. Kamusta, kamusta! Then BatJay has a quick chat with his publisher, and soon after he excuses himself to greet his mom.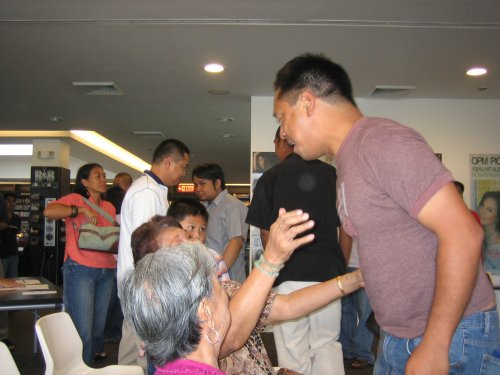 Even before he arrived at Fully Booked, I heard his mom speaking with some of the people at the venue. You can tell how proud she is of her son. And I'm not just talking about her son's successful booklaunch.
You know, some people are simply down-to-earth humble. I've attended several book launches, and this is the first time I've seen anything like this…
There, do you see it? Look closely…
Nakakangawit din yun, di ba? Imagine, you come straight from the airport, weather jetlag upon jetlag, head on over to Fully Booked, greet all your friends and relatives, stand around talking with your well-wishers, and then segue into an instant book-signing session… and not even ask for a chair.
It's no wonder he has lots of friends. And it's not surprising that his book sold out. 😀 (Too bad I missed his first book, Kwentong Tambay.)
Got to meet some of BatJay's barkada (L-R): ApolTheGreat, Wats0n, FisherPau, and TitoRolly. Nice meeting you, folks! Have fun with AdSense! 🙂
Here are more photos of the Batang Kaning Lamig Booklaunch. For the latest news and updates, check out BatJay's KwentongTambay.com blog.
Congratulations, Jay! Here's to even more books in the future.