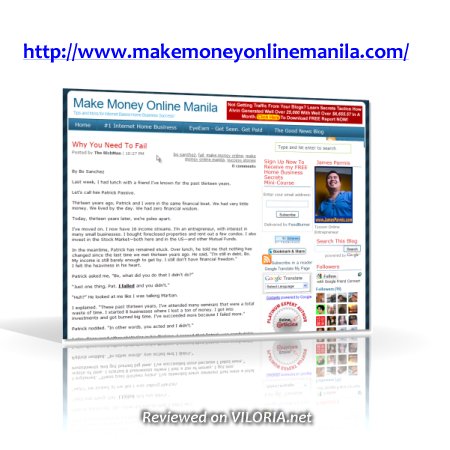 In the world of Philippine internet marketing, it's good to seek and find good blogs of fellow Pinoys.
The person behind
Make Money Online Manila
, is
James Parmis
, a problogger who makes money online via multiple streams of income.
For one, he earns online advertising revenues. His different blogs attract an audience that advertisers would like to reach, and the advertisers in turn (through third party ad brokers or ad networks), compensate him for his efforts.
Make Money Online Manila gives you "tips and tricks for internet based home business success." Yes, I got that right from his homepage.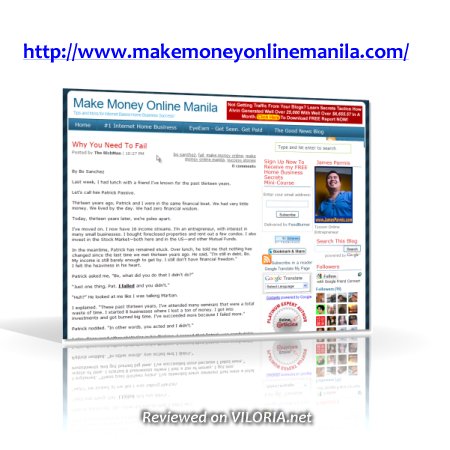 And that is a design approach you can also use with your own blogs. You do not have to use that tagline approach in all your blogs, but you can choose and test, and see which blogs work best with this.
In the case of Viloria.net, I sometimes shift between having and not having a tagline. I do that because I'm experimenting with branding strategies.
In the case of James Parmis' MMOM, it is very clear what he wants his blog to be known for. And that laser-like focus helps attract the right audience, as well as the right advertisers.
He uses Blogger.com to power his blog, and although that means his site has its own RSS feed, he makes use of Feedburner. This is done in some cases to help reduce the amount of bandwidth used up by his site.
When you promote your own site's direct RSS feed, that means several directories or bots will be pulling data from your site. If too many people pull directly from your feed, your bandwidth usage (which isn't always free) will go up.
That's why it's a good idea to use Feedburner.
There are some disadvantages, though, such as when Feedburner does not quickly update your RSS feed. But you can live with that. 🙂
Near the right column, you'll notice the Platinum Expert Author ribbon, because James Parmis has submitted at least 10 articles which were accepted in EzineArticles.
He is doing "article marketing" which helps his different websites rank high in the search engines, because other sites are backlinking to his sites.
TIP: Internet Success = Relevant Content + Backlinks
James also makes use of Affiliate Marketing, where he promotes other online merchants. If a sale is made, he earns an affiliate commission.
AdSense vs Affiliate Marketing
Now there are different schools of thought regarding this. Some feel that you should only focus on one way of making money online, on a per site basis.
In other words, if you will earn using AdSense, then you shouldn't do affiliate marketing on that same website. And vice-versa.
Others feel you can combine the two.
So which approach is better? You know my answer to that one — TEST.
You need to test and see what works for your site, and for your visitors. Just because someone succeeds in a particular way doesn't mean you will reap the exact same success if you copy that person's approach.
The key is to remain alert and observe what others are doing, so that you will know what ideas to test on your own website.
James posts long articles. This comes as no surprise since he strikes me as someone who likes to write. Think of how many articles he has submitted to EzineArticles, and it becomes clear how he feels about writing.
Just a quick glance at his text-rich site will confirm the fact that he is willing to write.
TIP: Long entries work with online advertising. Shorter entries (300 words) work better with affiliate marketing.
But again, please TEST. 🙂
What do I hope to see in James' Make Money Online Manila blog in the future? I hope to see a more prominent opt-in form to his own mailing list or online newsletter.
Or even a prominent link to his squeeze page. One that's powered by something other than Feedburner. Perhaps an autoresponder service such as Aweber.
Or less reliance on online ads. But that is something that usually happens down the road as far as bloggers are concerned, and is a topic I'll tackle in a future blog post.
In the meantime, please visit MMOM by James Parmis and learn from the tips he generously shares with people on the web.