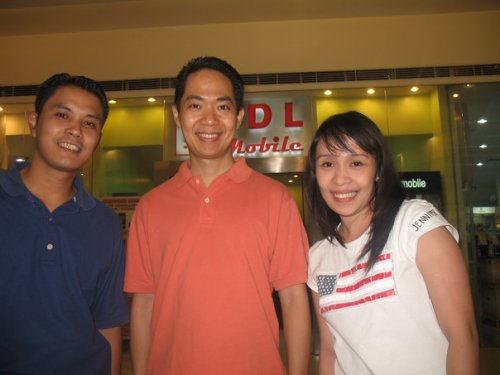 Some Pinoy bloggers trooped to SM Marikina yesterday afternoon (Feb. 28, 2009) to test the free WiFi service. It looks like you'll get the strongest signal somewhere near the third floor near the Food Court (4 out of 5 bars, based on an Acer Aspire One). On the second floor, near The French Baker, the signal is 3 out of 5 bars.
In the CyberZone, the signal was intermittent. Perhaps this was due to the increase in the number of bloggers in the area who were excitedly waiting for the raffle winner to be announced. Up for grabs was an Asus computer, and birthday girl Sha won it. Congratulations!
It was good to see so many new faces. When I was waiting near the Registration table, I was looking at the people in the line and feeling old. Which is good, actually, because I felt that blogging is becoming more popular to the point that I don't recognize more than half of the people there.
Another great thing about this is you now have the opportunity to make more friends. And if you're the shy type, these blogger events are perfect venues for you to improve your social skills. 🙂
Yes, if you're a newcomer you might feel apprehensive when you see groups of people clustering and seemingly just keeping to themselves. One way to get around this is to participate in online communities such as Plurk, so that you can easily break the ice by saying: "Are you so-and-so in Plurk?"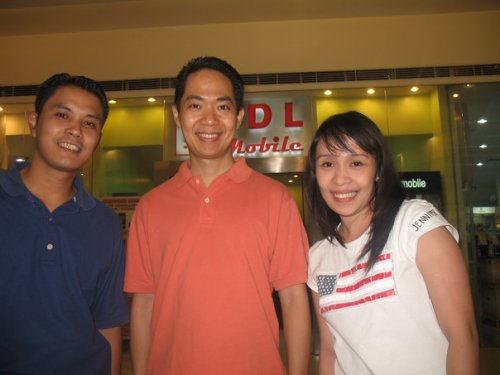 (L – R: Jeff, Manuel, Jennie)
It was great to meet Pastor Jeff and Jennie Aspacio, my Plurk buddies.
Also got to meet JA De Torres, Aya and Lani Ordonez, Jom, Ken Chua, Pete Rahon, Flowell Galindez, Ryan Joson, Ada Lajara, and Mark. Good to see Joan Piñon, Kel Fabie, Marc and Gail Dela Cruz-Villanueva, JayDJ and Aileen Apolo, Karla Redor and Sha.
Congratulations to Azrael Coladilla and SM for another successful event!
(By the way, I found out about this because of the Plurk channel of Az. So if you want to keep tabs of Pinoy blogger events, please follow Azrael in Plurk.)
(This quick blog post will be continued after I finish a few errands…)